Microsoft Azure Fundamentals AZ 900 Certification: How to Apply & Prepare
According to Oracle's report, 80% of all workloads will move to the cloud by 2025.
As more and more companies adapt to new ways of working, and rely more on cloud services, the platform is growing in popularity, especially Microsoft Azure. It is said that 90% of Fortune 500 companies use Microsoft Azure, one of the most popular among professionals globally.
With the growing popularity of Microsoft Azure, it is a great time to pursue Microsoft Azure certifications. Having Microsoft Azure certifications is especially lucrative since nearly 1,000 new customers sign up to Azure daily. That's 365,000 new companies adopting MS Azure every year!
But if you are a non-technical person or just starting a career in cloud computing then don't worry, there's a certification that can help be a part of this lucrative career. So, you want to know about Exam AZ 900: Microsoft Azure Fundamentals Certification or its career path? We've got you covered in this Azure AZ 900 learning path.

How to be Certified in Azure Fundamentals: An Overview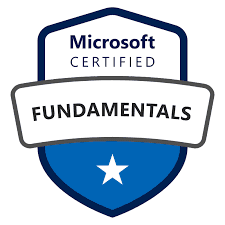 According to Microsoft, "the exam is intended for candidates who are just beginning to work with cloud-based solutions and services or are new to Azure." Additionally, a candidate must possess a foundational knowledge of cloud services and how those services are provided with Microsoft Azure.
Certification Name: Microsoft Azure Fundamentals Exam AZ-900
Exam Cost: $99 USD
Exam Duration: 85 minutes
Total Questions: 40-60 Multiple-choice Questions (One lab with around 12 sub-tasks)
Passing Score: 700/1000
Expiration Date: None
Exam Retake Policy: A candidate cannot take this exam any more than five times in a period of 12 months. The candidate is eligible to retake the exam 12 months from the date of their first attempt.
Exam AZ 900 Microsoft Azure Fundamentals Course Details:
Describe Cloud Concepts: 25–30%
Describe Azure Architecture and Services: 35–40%
Describe Azure Management and Governance: 30–35%
Do you know you can also appear for the AZ 900 exam for free? How? Read on to know the steps to claim your free exam voucher:
Register for certification visit certification page
Login with the appropriate option applicable to you Pearson VUE or Certiport, make sure you use the same email id which you used for registering for Virtual Training.
Once logged in, go to the certification dashboard and claim your free exam voucher.
Once you have completed both Part 1 and Part 2 of this training you are eligible to take the Microsoft Azure Fundamentals certification exam at no cost. How to schedule your exam:
Five business days after the event has concluded click to view the exam details: Azure Fundamentals Certification Exam
Click the Schedule Exam button to begin the online registration process
Sign in or create a Certification Profile
Navigate to the exam discounts page and enter the EMAIL you REGISTERED for the event with. You must link your account to receive a discount.
For any issues with your exam redemption, please open a case with Certification Support
How to Prepare for Exam AZ-900: Microsoft Azure Fundamentals Certification Exam?
Let us share how you can be Exam AZ-900: Microsoft Azure Fundamentals through these effective exam preparation tips:
Be Thorough with the Course & Exam Pattern for Azure AZ 900
Focus on Microsoft Certified Azure AZ 900 Certification's Key Components
Establish a Study Routine for Azure AZ 900 Exam
Choose a Study Mode, you can either try self-study or enrol in a Microsoft Azure Certification Training platform.
Practice Using the Azure AZ 900 Exam Dumps
Take proper rest and eat well.
How to Schedule Exam AZ-900 In-person or online?
You can take the Microsoft Certified Azure Az 900 exam online with Pearson VUE in-person at an Authorized Test Centre, or online in the comfort of your home or even office! Let us show you how you can apply for the exam:
Click at https://home.pearsonvue.com/Clients/Microsoft.aspx to schedule your exam
Sign in to Certification Dashboard using the personnel email account
On your Microsoft Certification profile make sure that all the required fields marked with an asterisk* are correctly filled. Save the Profile and continue
Check your eligibility by entering the email account you used to register for the event
Click Schedule exam
Select How do you want to take your exam (Local test centre, home/office)
Select exam date and time and Proceed to Checkout with the payment.
Wrapping Up
AZ 900 examination seems like a perfect choice if you are looking for a career in Cloud computing as a beginner or having no technical background. Microsoft Azure Fundamentals AZ 900 serves as an ideal launchpad for furthering your understanding of cloud computing as well as foundational Azure services. With a certification in AZ 900, you can build your expertise as you prepare for a career in cloud computing.
We hope this blog has cleared your doubts regarding Microsoft Certified Azure Security Engineer. Follow this Azure AZ 900 learning path as diligently as you can and you'll surely clear your exam and be able to demonstrate your technical expertise to your potential employees. It will also ensure that you stay ahead of the curve with certified badges along with a lucrative salary.
If you still feel you need additional help, online courses or e-learning platforms are your allies! Reach out to them for and enjoy 24/7 teaching assistance, career counselling, and lectures by industry-expert trainers.
Good Luck!